Frequently Asked Questions
Q: Do you offer discounts?
A: No.
Sure, there are cheaper driving lessons in town. If all you care about is cheap, we are happy to point you in the right direction. But let's just say, the number of students that come running to us after wasting their time, energy, and money on dozens of "cheap" lessons is astounding. We won't ever waste your time, so please value ours.
Q: Do you offer shorter Lessons?
A: No.
We don't do 60-minute lessons, nor 45-minute lessons, etc., because they just don't work. For every minute of our 90-minute lesson we have a plan. Please come well-rested, ready to learn, as we have a lot to cover.
Q: Can you pick me up and drop me off?
A: No.
Our pick up and drop off location is always at The Tim Hortons parking lot located at 1095 McKenzie Ave. That's at the intersection of McKenzie and Borden. Notice we didn't say the closest Tim Hortons to your home. We don't pick up students from their homes because their road test doesn't start and end at their home. It takes place near the ICBC office and that's where it makes sense to practice. There is a reason why the ICBC Licensing Office is located where it is. It's because they have everything they need in that area to properly test your driving ability. Having you drive in a straight line for 15 minutes from your home to the ICBC area and then 15 minutes back, is a complete waste of your lesson time. Catch a bus, a ride, or a cab, and please be on time.
Q: Can I "just" rent your car for my Road test?
A: No.
With us, there is no amount of money you can pay us to show up with you unprepared to the Road Test. That'd be a waste of your time, our time, and the examiner's time. We will only commit to letting you use our vehicle for the road test if and only if you have proven to us that you're road-test ready. How? You need to be able to pass two of our mock road tests in a single lesson. If you take a lesson with us, and the lesson turns into a teaching lesson, because you have not yet mastered the skillsets that the examiner is looking for, then you're not ready for the test. We're not here to sell you on lessons. Whether you book our time, or someone else does, it doesn't change our reality. We have an outstanding reputation with the examiners and aren't willing to tarnish it because someone wants to "try their luck on the road test." Come, learn, get good, take the test with confidence, pass, and move on. Common Question: But my road test is in 4 days and I need a car. How can I possibly fit a mock road test in with you prior to that date and book you for the test? Answer: You can book your evaluation lesson as soon as possible. If we think you're ready then you can book another lesson for the day of your road test to be able to use our vehicle. However, if we determine that you're not ready then we can't let you use our vehicle. If you think this policy is unfair or that it may frustrate you, or leave you hanging last minute to find another vehicle, we suggest booking with another driving school altogether. We're not here to sell you on lessons that you don't need, but we're also not taking you to a test if you're not ready. It's that simple.
Q: How Many Lessons Do I Need?
A: It Depends.
It depends. Starting from scratch, you'll likely need 9 lessons if you have a co-ed driver that you can practice with as well. More lessons may be required if you don't have anybody else to practice with. If you're new to Canada and have a driver's license from another country, we may be able to bring you up to speed in 5 or so lessons. If your road test is in 2 days and have never taken a lesson with us we can try our best to give you a heads up on what to expect on the test. But please remember, we're not miracle workers. We can tell you what you need to work on in 90 minutes but unless you book enough lessons for us to work on those skills then there's no point. In other words, if you're just going to take a lesson and then disappear and do nothing in the meantime, don't take a lesson at all. Save your money. It would be as if we took one ice skating class and then tried to compete in the Olympics. You'd tell us to get real. Why would driving be any different?
Q: Do you teach Class 4?
A: No.
We are not licensed to teach Class 4 (Restricted or Unrestricted).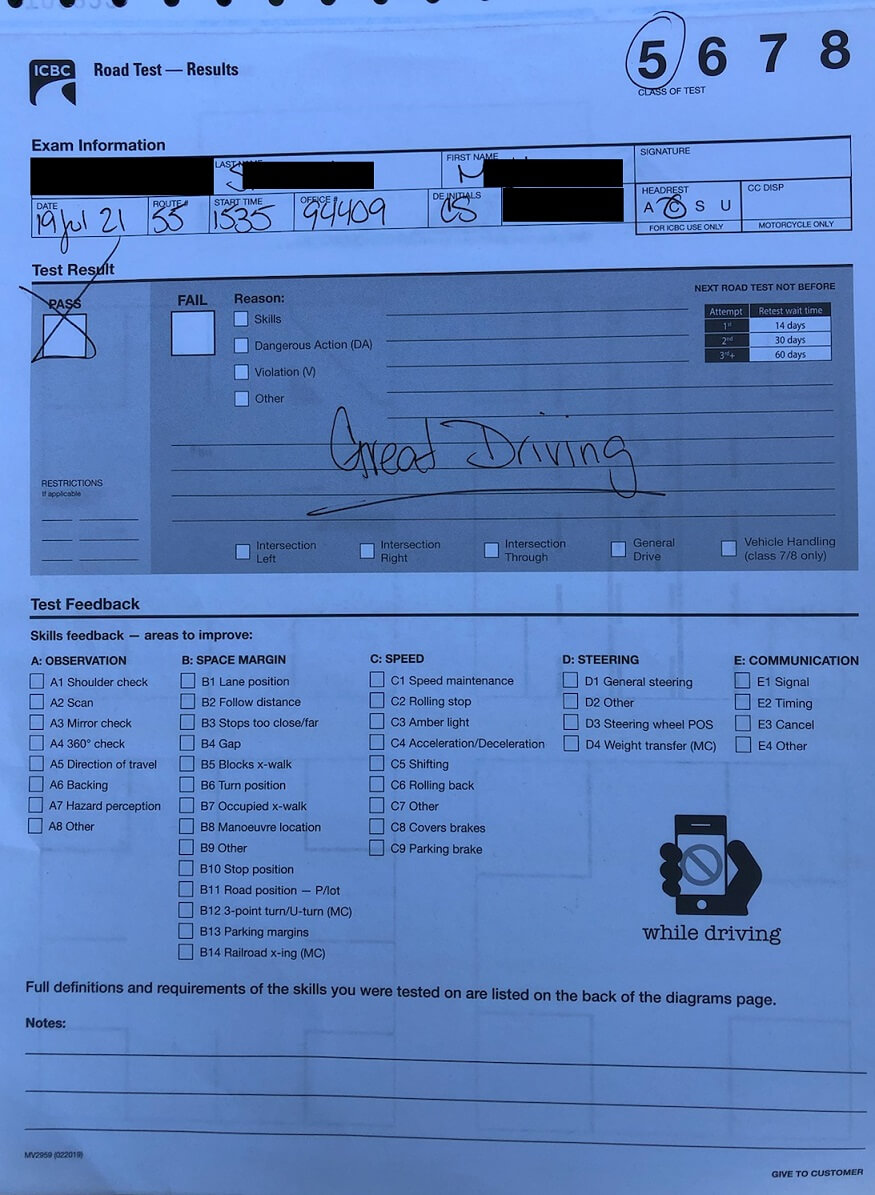 Ready to Book?